"Baby's Love For You" Design Contest
Do you know how much your babies love you?
They may not be able to speak it out clearly yet, but their smooches on your cheek, the smile when they are staring at you, the holding-up arms when they are asking for a hug, or the cheering when they are playing with you, every tiny detail is saying they are born to love you.
This Mother's Day, we are going to launch a design contest with the theme of "Baby's Love For You". By designing a cloth diaper print, we hope to provide a chance for all moms to show off those sweetest moments with their babies, to share with all members of the Mama Koala Community, and then put them on the babies' bums eventually!
This design contest is open to anyone no matter where you live, either well known designers or first time triers, as long as you have the heart for our planet. Welcome to SHARE this contest to people who might be interested.
We are excited and can't wait to see your entry/entries.
Please Read Rules and Guidelines of this Contest
HOW TO ENTER

Step 1  Please download the source file prepared by Mama Koala.
Design Source file: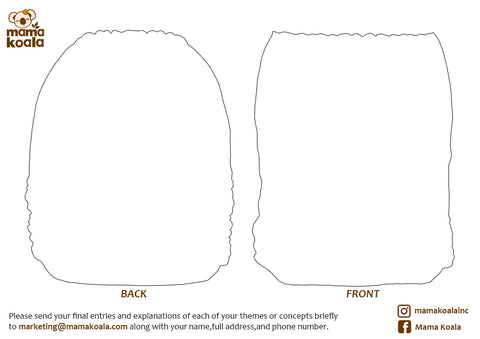 Download Image
Step 2 Please be sure the design will fit within the frame as depicted in the source file, which shows the back and the front of the Mama Koala cloth diaper. The final image will be made according to your submitted works. (Hand-drawn is allowed, but you will need to ensure to take a clear picture of your drawing from a straight down, 90 degree angle.)
Step 3 Please send your final entries and explanations of each of your themes or concepts briefly to marketing@mamakoala.com along with your name, full address, and phone number. We also need your Statement to allow us to modify and use your design for commercial use, the format of statement listed below for your reference:
Commercial License Statement: I hereby authorize Mama Koala to make modifications as needed and use of my design/designs(each name of the patterns) as one time commercial use without quantities limitation, however Mama Koala doesn't own copyright of my design/designs, and I will be the solely owner. I only allow Mama Koala use my design/designs for this charity only. I will charge commercial use fee if Mama Koala wants to reproduce my design/designs, and the charge will be reasonable and based on the quantities required.
SUBMISSION DEADLINE: April 24, 2022 @ 23:59 PDT
WINNER SELECTION AND NOFITICATION
All of your qualified designs will be displayed on our Facebook Page for voting. The voting starts on April 29 and closes on May 7, 2022 @ 23:59 PDT. The top 6 winners will be announced on our Facebook and Instagram pages on May 8, 2022 @ 17:00 PDT.
The top 6 designs will be put into production and we will send out the prizes to the winning designers around June 2022. For any diaper sold of your design/designs, we will donate one diaper of a random print to @TheClothOption. You can find more information about The Cloth Option at https://theclothoption.org.
APPRECIATION
Each winner will be awarded one set of products printed with your own design/designs, which includes a pocket diaper with AWJ lining, a wet bag (size M), a diaper pod (size M), two Cloth Menstrual Pads (size L), and a changing pad. You will receive two sets if two of your designs win the contest.
Your design/designs will be published on our social media, and your personal social medial account or business account will be tagged by us if you allow us to do so. Make sure to submit your social medial account to us if you win the contest.
TERMS & CONDITIONS:
We take copyright very seriously, so we ask all your submissions must be the original work of the entrant and must not violate any third party's proprietary or intellectual property rights. We reserve the right to take legal action to be against you, if your submission doesn't belong to you.
We have the right to disqualify any entry whose authenticity is questionable base on our understanding and experience.
Politics, pornography, violence, drugs and any other "sensitive topics" are not allowed. (We reserve the right to determine what is sensitive or inappropriate based on our knowledge and understanding.)